MASON ELEMENTARY AND PLEASANT RIDGE HIGH SCHOOL WIN THE BURNS & McDONNELL BATTLE OF THE BRAINS
November 20, 2015
FOR IMMEDIATE RELEASE
November 18, 2015
CONTACTS:
Michael Tritt, Union Station / 816-460-2278 / [email protected]
Krisit Widmar, Burns and McDonnell / 551-208-5922 / [email protected]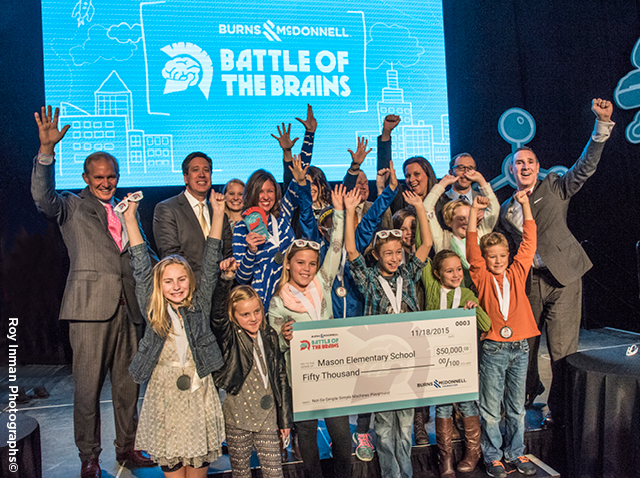 MASON ELEMENTARY AND PLEASANT RIDGE HIGH SCHOOL WIN
THE BURNS & McDONNELL BATTLE OF THE BRAINS
Mason Elementary Wins Grand Prize and the Honor of Having Its Proposal
Transformed Into a Million-Dollar Exhibit at Science City
 
KANSAS CITY, MO (Nov. 18, 2015) — Mason Elementary and Pleasant Ridge High School are the winners of the third Burns & McDonnell Battle of the Brains, one of the nation's most unique STEM (science, technology, engineering and math) competitions. The Burns & McDonnell Foundation distributed $155,000 in grants among the top 20 finalists at an awards ceremony at Union Station, providing Mason Elementary and Pleasant Ridge High School each with the top amount of $50,000. Burns & McDonnell and Science City revealed that Mason Elementary's proposal, called "Not-So-Simple Simple Machines Playground," earned the grand prize and will be transformed into a million-dollar exhibit at Science City.
"Now the fun really begins!" says Greg Graves, chairman and CEO of Burns & McDonnell. "One of the coolest parts of winning Battle of the Brains is getting the opportunity to work alongside our STEM professionals over the next year to see their classroom dream come to life. In just a matter of weeks, these elementary students will be sitting in a meeting with our engineers, architects and construction team at Burns & McDonnell to create the next permanent exhibit at Science City."
Mason Elementary students in the Lee's Summit (Missouri) School District earned the top spot with their submission, "Not-So-Simple Simple Machines Playground." In an exciting exploration of simple and compound machines, the proposal features a variety of larger-than-life machines, such as a tornado slide that looks like a giant screw, a pulley-powered zip line seat and a giant tire with an axle to perform as a merry-go-round. Visitors would test physics on seesaws and explore effort and resistance force with different levers.
Students with Pleasant Ridge High School in the Easton (Kansas) School District won in the secondary category with their submission, "Cultivating the City." The exhibit is a collection of green technology showcasing urban agriculture at its finest. The heart of the proposal is a structure featuring a city building with a flora-filled rooftop garden. Visitors could dig into a portable potting station, planting seeds of common local-grown plants, climb on a spider web rope, and follow the flow of nutrient-rich water from an aquaponics tank.
The popular science competition attracted record participation this year: 5,300 students and 520 entries from 210 schools. A panel of experts in science, engineering and academia ranked the entries according to set criteria that ranged from creativity to interactive capability. The public was invited to cast votes for their favorite of the top 20 finalists online, which counted for 30 percent of the final scoring. This year, more than 70,000 people cast their votes online.
"As part of our Western Expansion, Union Station is growing Kansas City's world class Science Center outdoors for the first time," says George Guastello, president and CEO of Union Station. "That exciting new STEM-focused space will feature this latest Battle of the Brains award-winning concept. What a thrill it will be for these students – and for all of us -- to see their ideas take shape and become a real centerpiece at this historic destination. And it should not be a surprise that student-inspired exhibits from past Burns & McDonnell Battle of the Brains competitions have ignited an energy and enthusiasm for Science City resulting in year-after-year double-digit attendance growth and internationally awarded recognition."
Burns & McDonnell introduced the Battle of the Brains competition in 2011 to spark greater interest in STEM education. The competition has produced three interactive exhibits at Science City, valued at more than $2 million: Science of Energy, Genetics: Unlock the Code, and Every Last Drop. In addition, Burns & McDonnell has invested in two additional exhibits — Science on a Sphere and the Burns & McDonnell Engineerium — to help invigorate interest in STEM topics. Over the last four years, more than 10,000 metro students have participated in the Burns & McDonnell Battle of the Brains.
"Students are telling us that their experience in Battle of the Brains helped them look at STEM differently. Now, those same kids are engineering majors in college," says Graves, who points to statistics showing that in less than three years, more than 2 million STEM jobs in the U.S. will remain unfilled because there won't be enough qualified candidates to fill them. "Our goal — our obligation — is to give kids a new perspective on STEM education and inspire them to go after their dreams. I can't wait to fulfill my dream of hiring the first Battle of the Brains alum at Burns & McDonnell. That day, I know, is coming soon."
###
About Burns & McDonnell
Burns & McDonnell is a company made up of more than 5,300 engineers, architects, construction professionals, scientists, consultants and entrepreneurs with offices across the country and throughout the world. We strive to create amazing success for our clients and amazing careers for our employee-owners. Burns & McDonnell is 100 percent employee-owned and is proud to be No. 15 on FORTUNE's 2015 list of 100 Best Companies to Work For. For more information, visit burnsmcd.com.
About Science City
Kansas City's Science Center, Science City, awarded prestigious "EDGIE" Award by international panel. The Association of Science-Technology Centers (ASTC), the non-profit organization of science centers and museums representing 650 members in 50 countries, awarded Kansas City's Science Center, Science City at Union Station its prestigious Roy L. Shafer Leading Edge "EDGIE" Award for Visitor Experience in 2015. Awarded to Science City, for its successful transformation in recent years, by focusing on regional educational priorities and partnering with local businesses, the science center has transformed more than 50% of its space over the past three years. Community validation has come in the forms of increased revenue, attendance, reputation, and visitor satisfaction. One prime example of programming that promotes experiential learning and community investment is the Burns & McDonnell Battle of the Brains. This competition, open to local elementary and secondary schools, challenges all students to design and inspire new exhibits and experiences for the science center. The jury found how Kansas City's Science Center, Science City changed its perception in the community and developed a model of long-term success to be inspirational to other institutions. For more information, visit here or sciencecity.com.